2017 Ford Mustang Shelby® GT350
A 100% Pure Adrenaline Rush.

Just looking at the Shelby® GT350 makes your heart beat faster. A true example of form beautifully following function. Now imagine strapping yourself in and firing up that 5.2L V8. Revving it. Feeling that incredible horsepower chomping at the bit. Your instrument panel is a panorama of information that's vital to know on the track. You grip the shifter and push it into first. A positive click. And you're off on your own thrill ride. That giddy exhilaration you feel is what the designers and engineers had in mind all along.

The 5.2L V8 flat-plane crank is unique to the Shelby® GT350 and Shelby® GT350R. It produces 526 horsepower and 429 lb.-ft. of torque. It's designed to be the most powerful naturally aspirated Ford production engine ever.

Transmission coolers keep the world-class TREMEC® 3160 six-speed transmission at optimum temperatures.

Up front, six-piston Brembo™ calipers and 15.5-inch SHW® multipiece rotors are cross-drilled and vented to store and dissipate energy, so they perform to track standards and resist fading. You can thank Ford Performance for that.
In the rear, four-piston Brembo™ calipers and 14.9-inch SHW® multipiece disc are cross-drilled and vented to deliver fade-free performance on the track or road.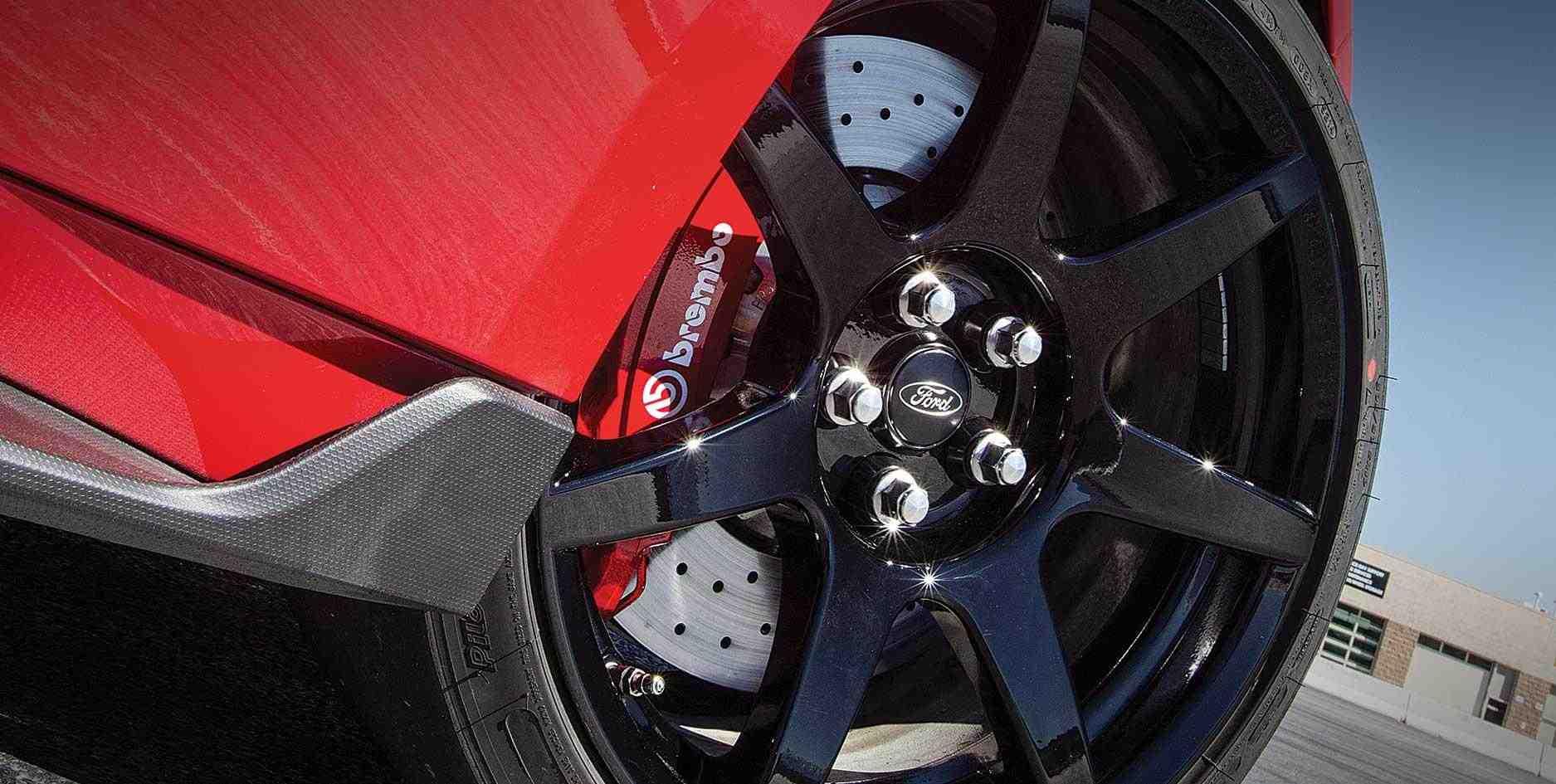 A World-Class Sports Car Teamed Up With World-Class Tech.
The Shelby® GT350 features the MagneRide™ Damping System. It monitors and adjusts itself thousands of times per second, creating a dynamic, adrenaline-fueled driving experience while also producing that signature growl that will leave you breathless. The quad exhaust with active valve technology helps maximize the awesome power of the 5.2L V8.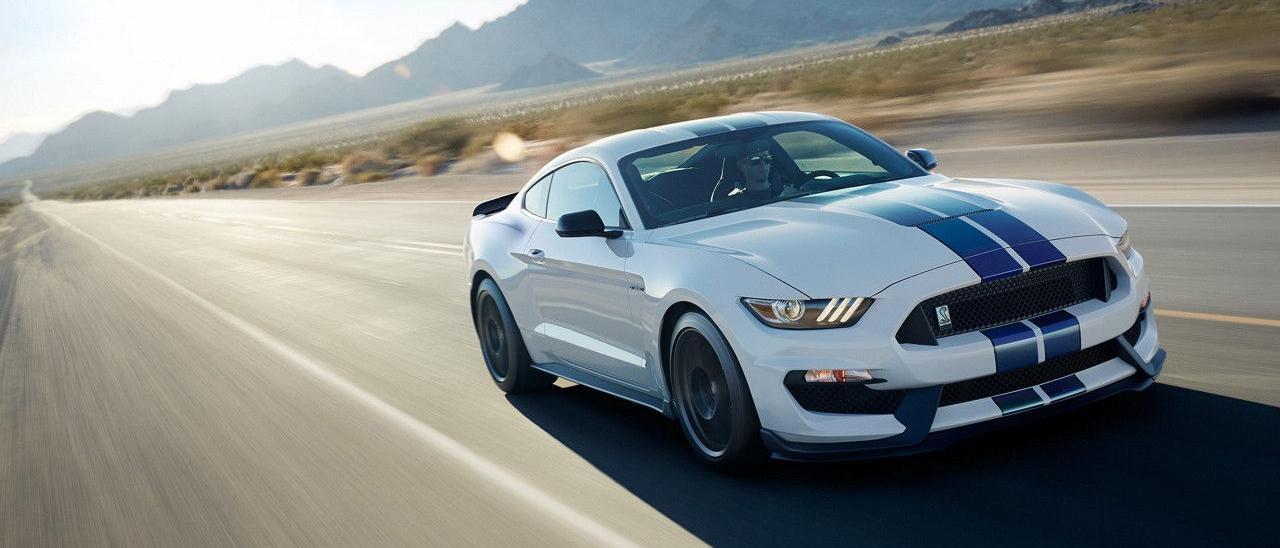 This spoiler isn't just some fashion statement. It's light weight works in unison with the rest of the car's aerodynamics. It adds down force which keeps the Shelby® GT350 stable at track speeds.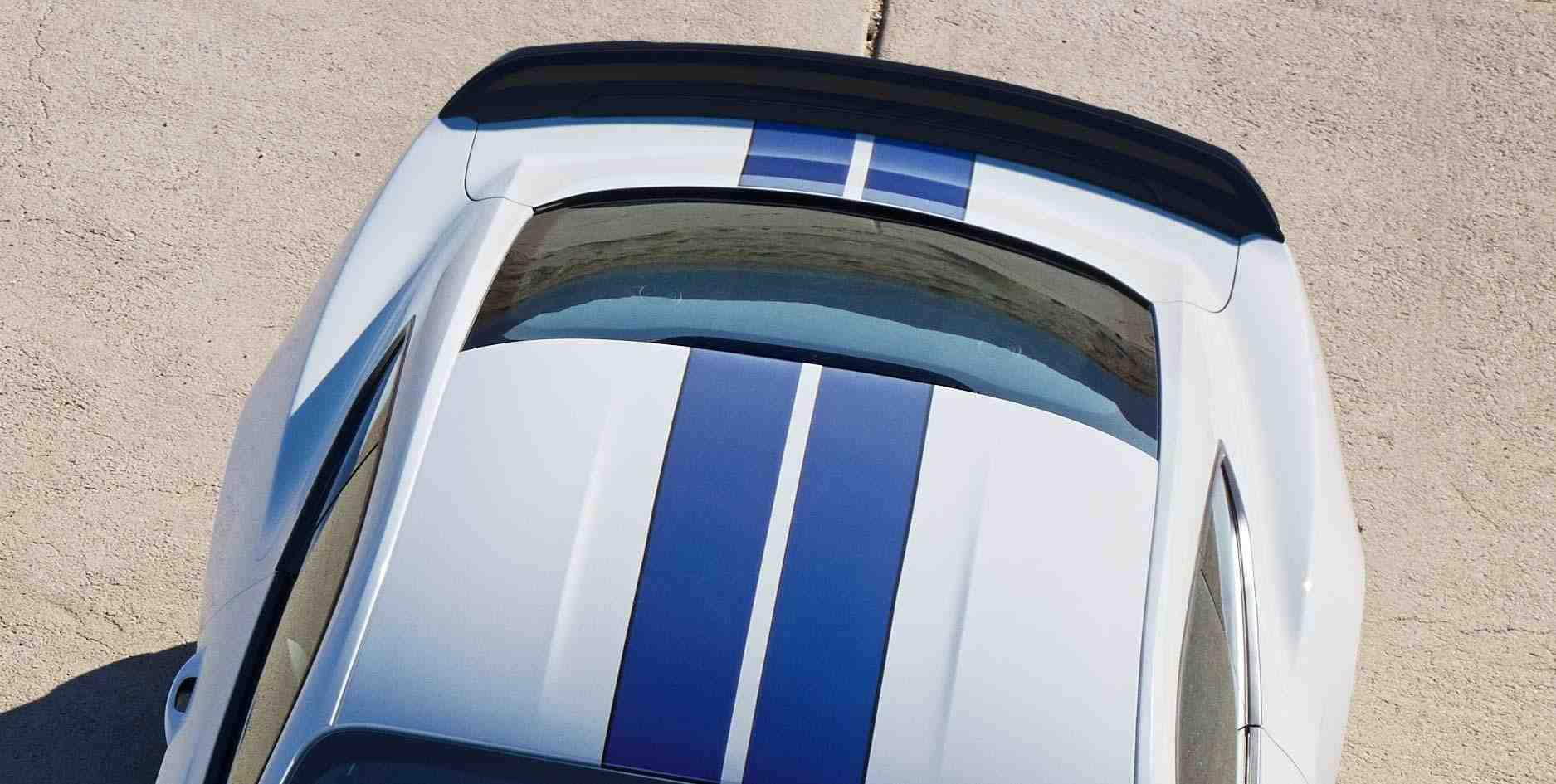 The rear diffuser increases downforce, helping to keep the car stable at high speeds while providing air to the differential cooler.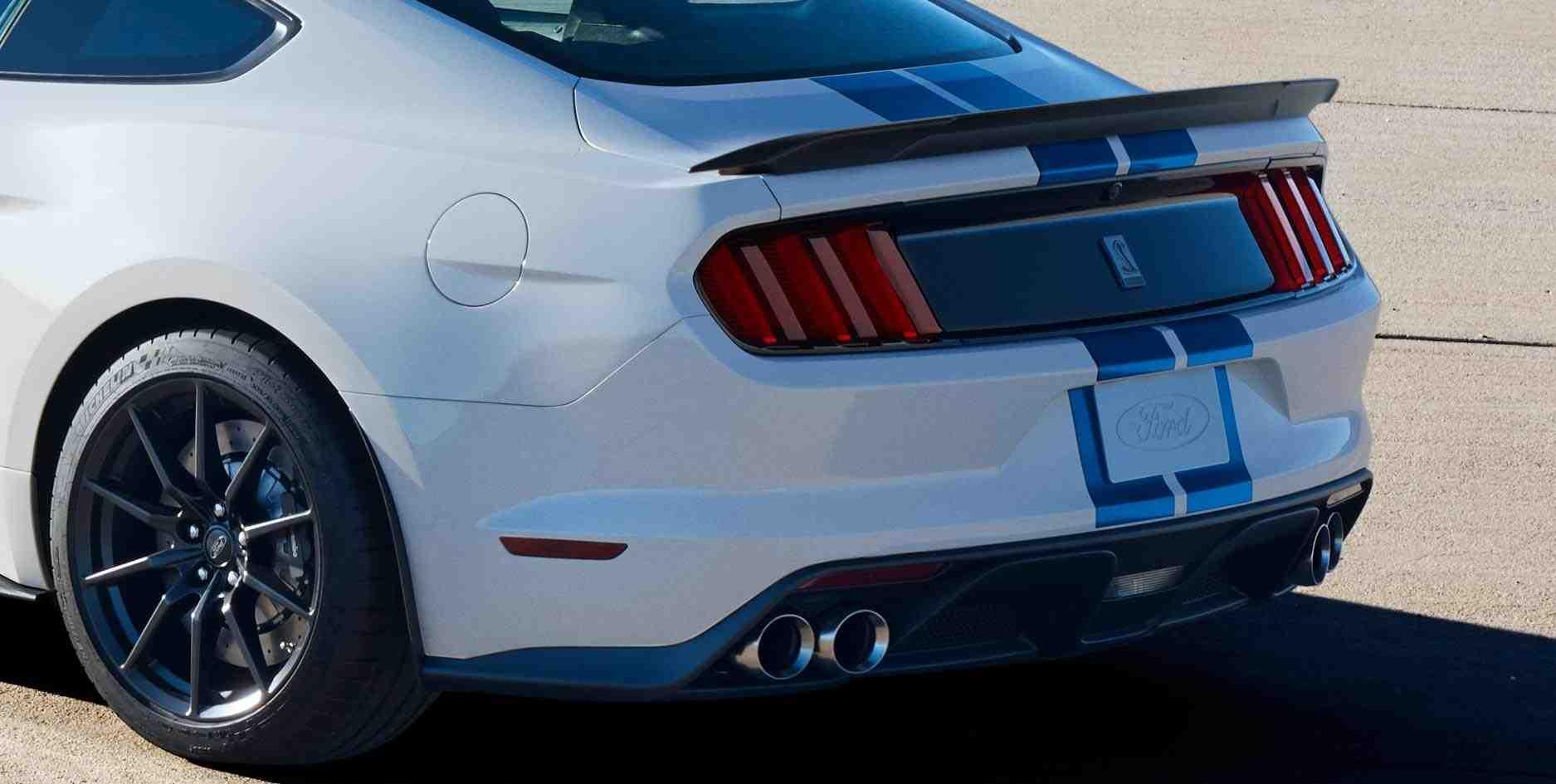 The differential cooler keeps fluids at optimum temperatures for maximum performance while on the race track.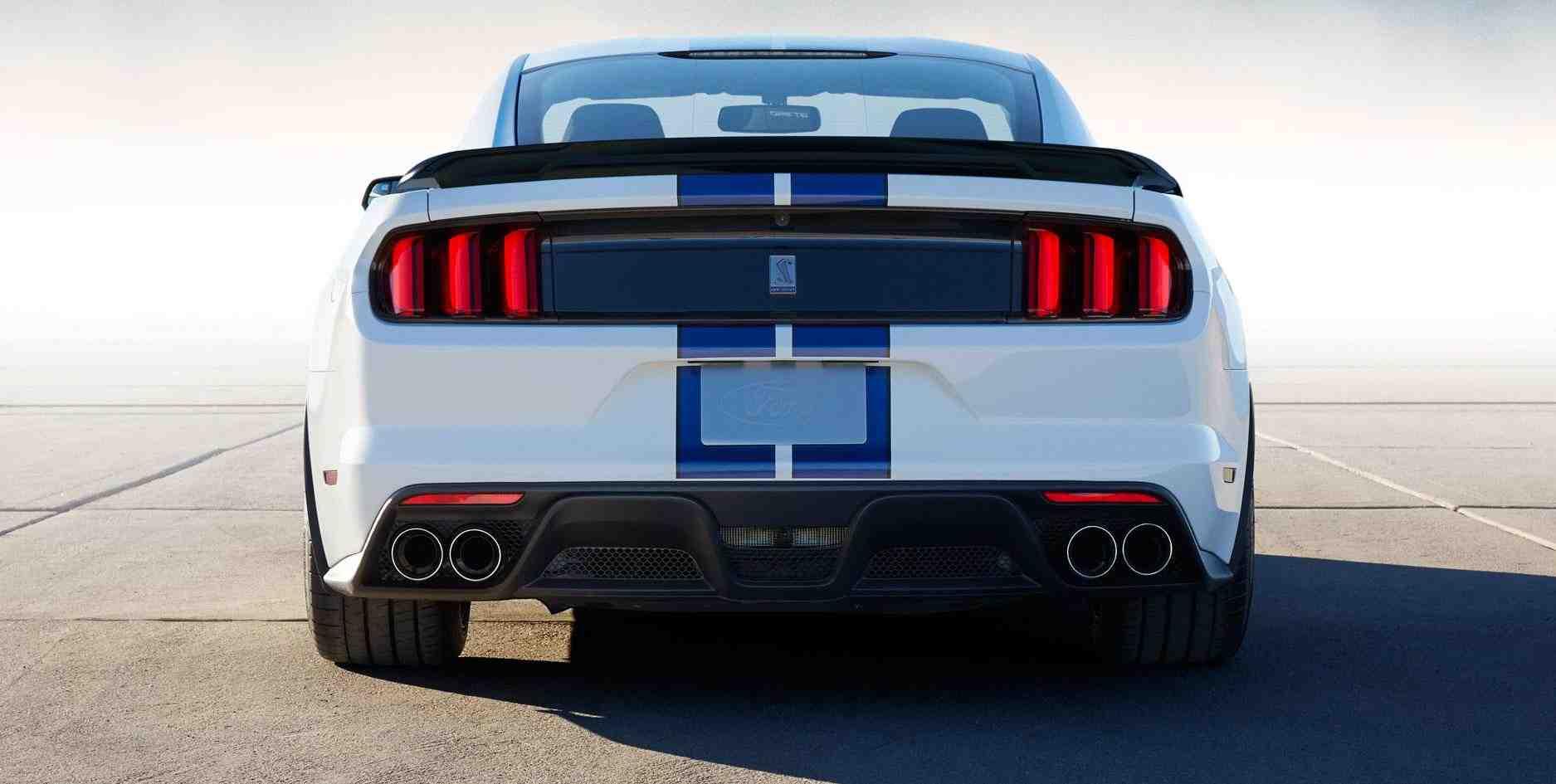 Quad Exhaust Tips With Active Valve
Quad tips with an active valve technology increase the air flow through the system, reducing back pressure and unleashing the full potential of the 5.2L V8.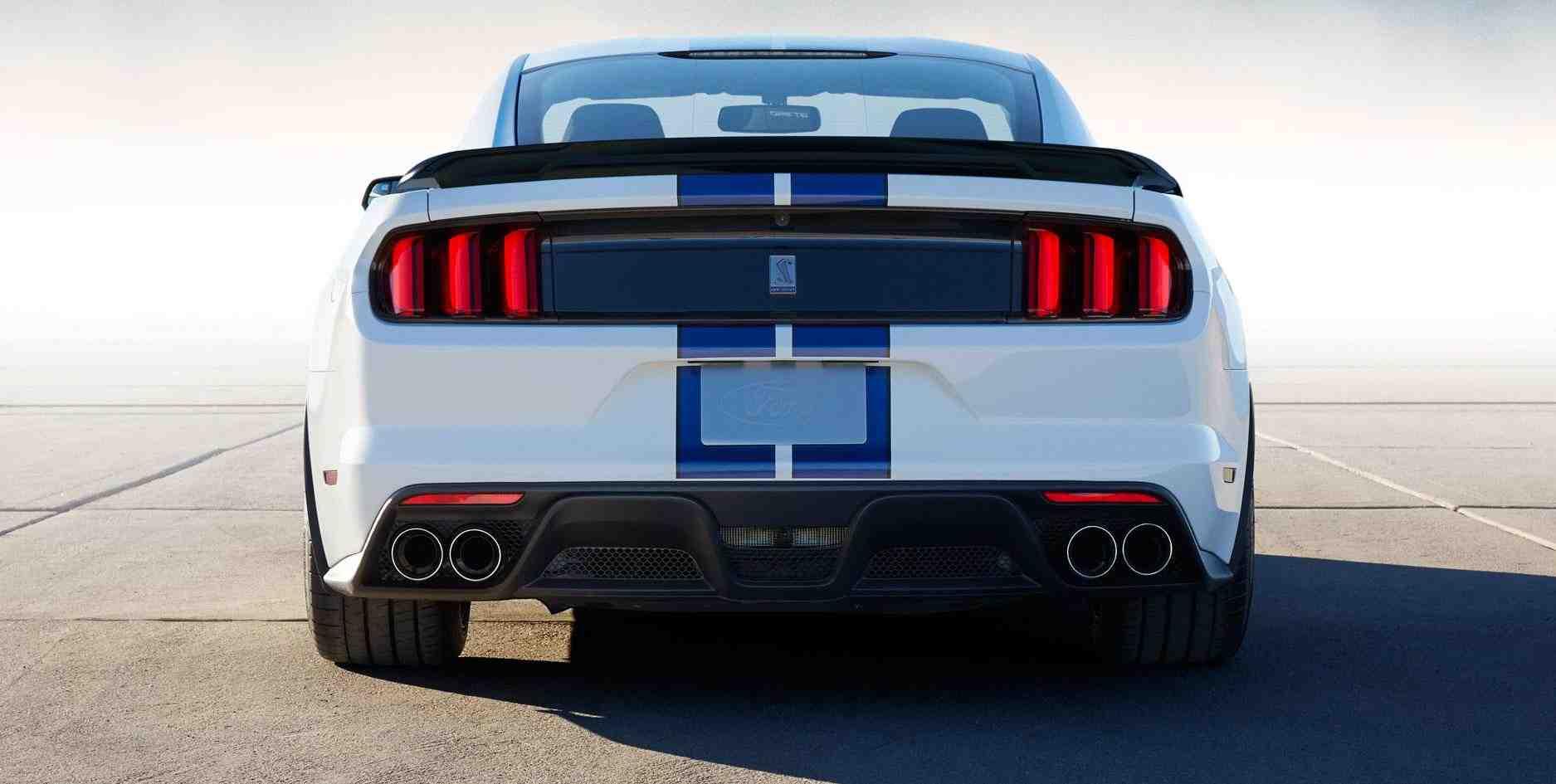 "Cars are meant to be driven."
– Carroll Shelby
The Shelby® GT350 is an amazing car for the track or the street. With its powerful 5.2L V8, the GT350 produces an unmistakable sound that will give you chills every time you drive it. Cutting-edge MagneRide™ dampers provide control and balance while Brembo™ brake calipers deliver confidence on the street or track. The GT350 provides a sensation like nothing else out there, just as Carroll Shelby intended.
MagneRide is a trademarked technology of BWI Group.
Brembo is a trademark of Brembo S.p.A.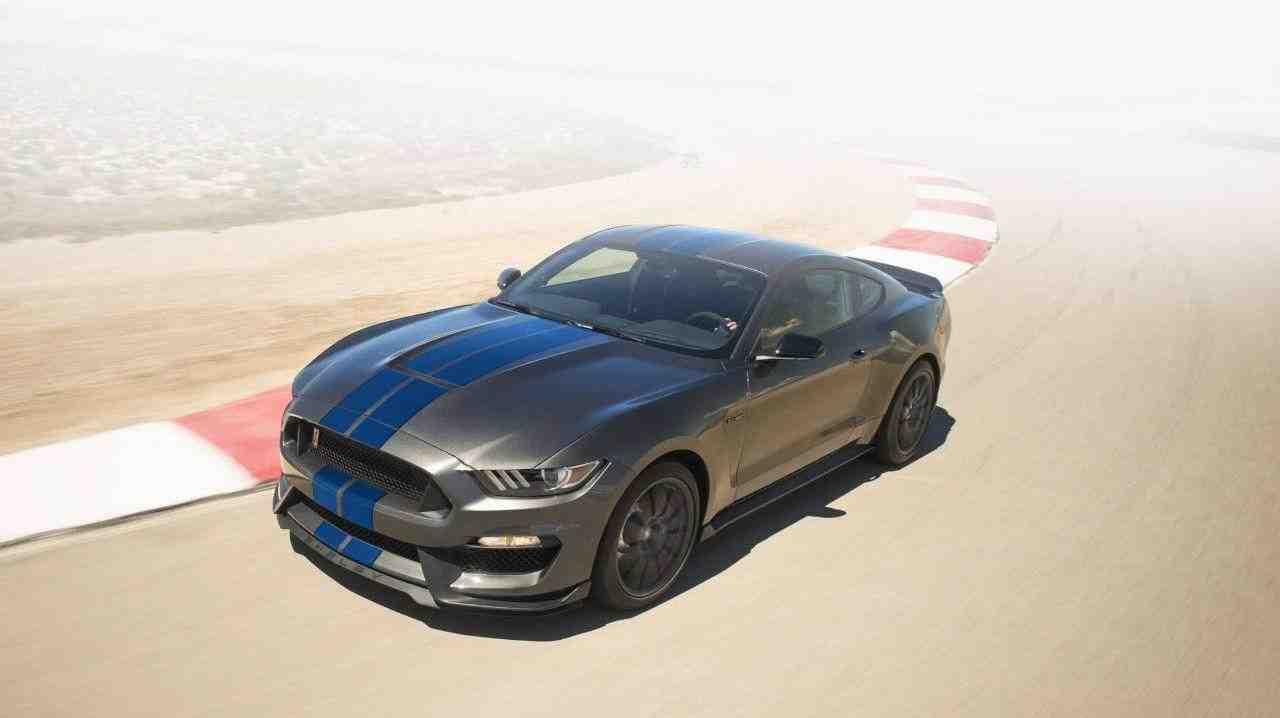 This world-class super car is designed to achieve lightning fast lap times on road courses. It is the most dynamically athletic production Mustang yet. Every system, component and shape is designed and optimized so all the parts work in balanced harmony, slashing weight wherever possible with cutting-edge materials and technologies. That's why driving a Shelby® GT350 is the most exhilarating experience ever felt in a production Mustang.
5.2L V8 Engine with a Flat-Plane Crank That Produces 526 HP2 and 429 LB.-FT of Torque
The hand-assembled 5.2L Ti-VCT V8 with a Flat-Plane Crank (FPC) found on the 2017 Ford Shelby® GT350 is the most powerful naturally aspirated road-going engine in Ford history. With a redline of 8,250 rpm, it's also Ford's highest- revving production V8 yet.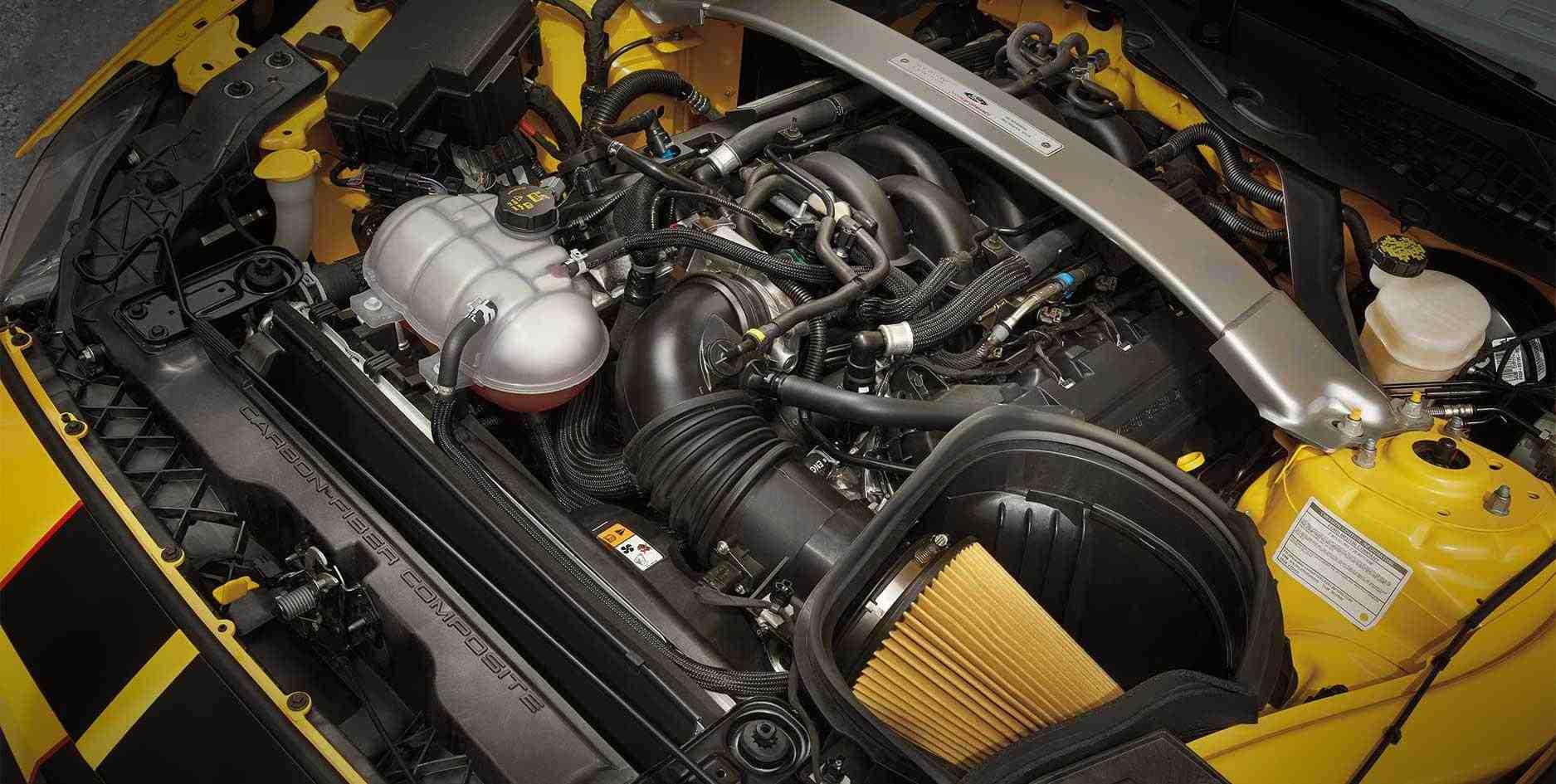 No-Compromise Braking System
Brembo™ front and rear calipers with cross-drilled, two-piece, highly engineered brake rotors haul down the Shelby® GT350 in a hurry. The front rotors 394mm (15.5") and in the back they're 380mm (14.9"). Use of aluminum hats in the rotors helps cut overall weight. They are specially designed to store and dissipate braking energy during track use.

Magneride™ Damping System And Tremec® 3160 6-Speed Manual Transmission
The MagneRide™ Damping System monitors and adjusts itself thousands of times per second, creating a dynamic, adrenaline-fueled driving experience. And the world-class TREMEC® 3160 6-speed manual transmission is light and strong. Tough enough to handle extremely high engine speeds as well as the rigors of long and brutal track duty, the transmission also provides the kind of precision engagement, smoothness, and reduction in weight and rotating inertia demanded by Ford Performance.

An Interior That Improves Your Performance.
Settle into the standard RECARO®cloth seat with Miko® suede sport inserts, and grab the race-inspired Shelby®-unique shift knob. You'll instantly recognize the difference an uncompromising, performance driving environment makes. Take a look around and notice the Shelby-exclusive aluminum trim. And once you're on the road, you'll appreciate the unique shift indicator light displayed on the windshield. Because when you're driving a car like this, there's no way you want to take your eyes off the road.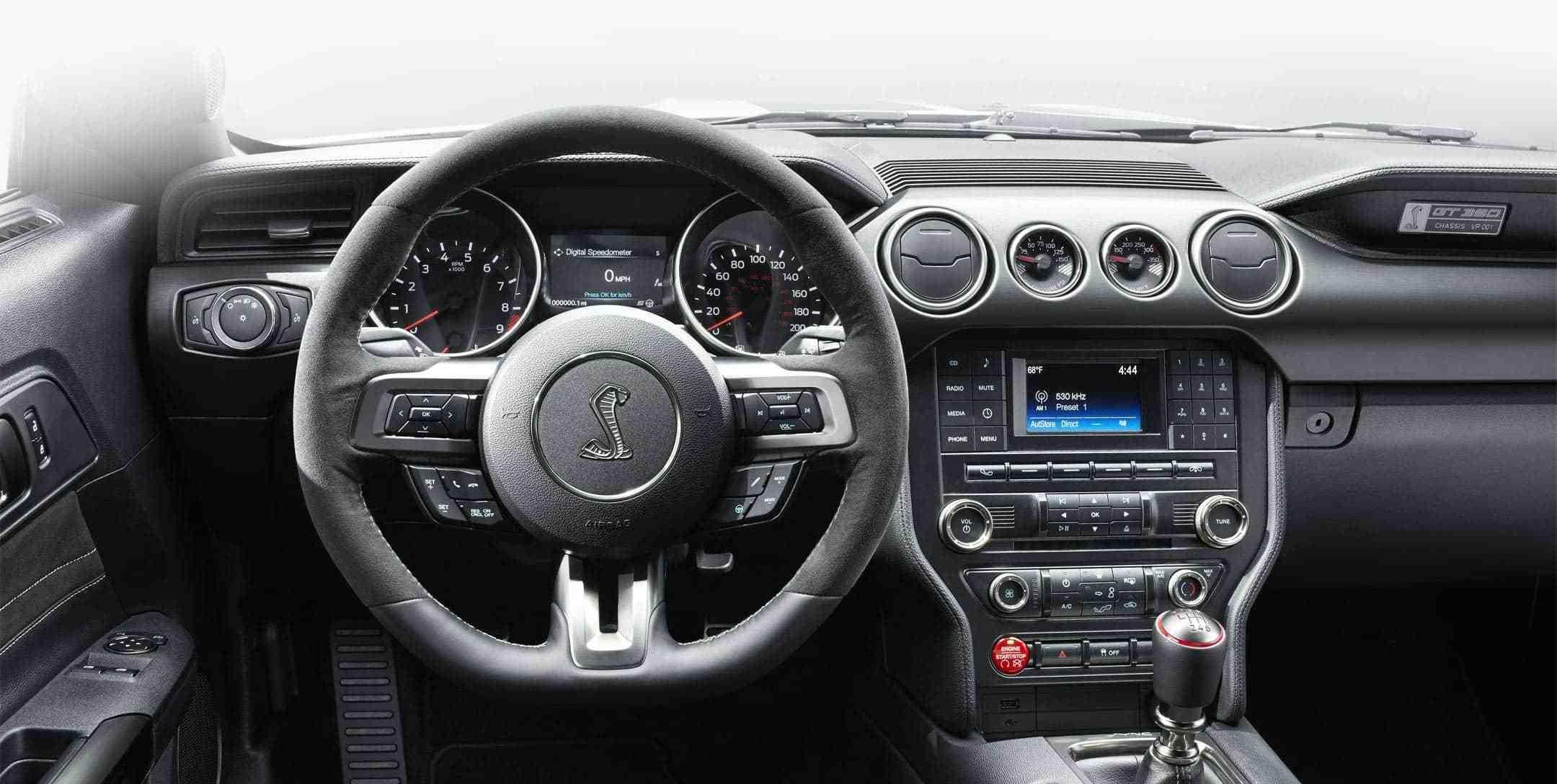 Flat Bottom Steering Wheel And Track Apps
Get two hands full of this unique steering wheel with Alcantara and Cobra logo. You'll never want to let go. Track Apps™ features Electronic Line-Lock and Launch Control, and provides performance metrics instantly on the 4.2-inch message center in the instrument cluster.

Unique Chassis Number/Integrated Driver Control (IDC) System
Every GT350 comes with its own unique chassis number which is displayed on the passenger side instrument panel. The GT350 is sure to become a collectors item, so every car deserves its own unique number. The Integrated Driver Control (IDC) system offers customizable driving preferences that let you dial in the handling dynamics to your liking.

The Shelby® GT350R. Ready To Race.
The Shelby® GT350R is a racing machine, pure and simple. It rides on 19-inch carbon-fiber wheels, wrapped in Michelin® Pilot® Sport Cup 2 Tires. It sports a carbon-fiber rear wing, a larger front splitter and unique chassis tuning that doesn't make any compromises for day-to-day life on the road. Just as important as what the Shelby® GT350R has, it's what it doesn't have to save as much weight as possible. So there's no rear seat, rear view camera, audio system, SYNC,® auxiliary gauges, tire inflator and sealant kit, or USB port. There's not even a floor mat. Don't sweat that. You'll be wiping your feet on the competition.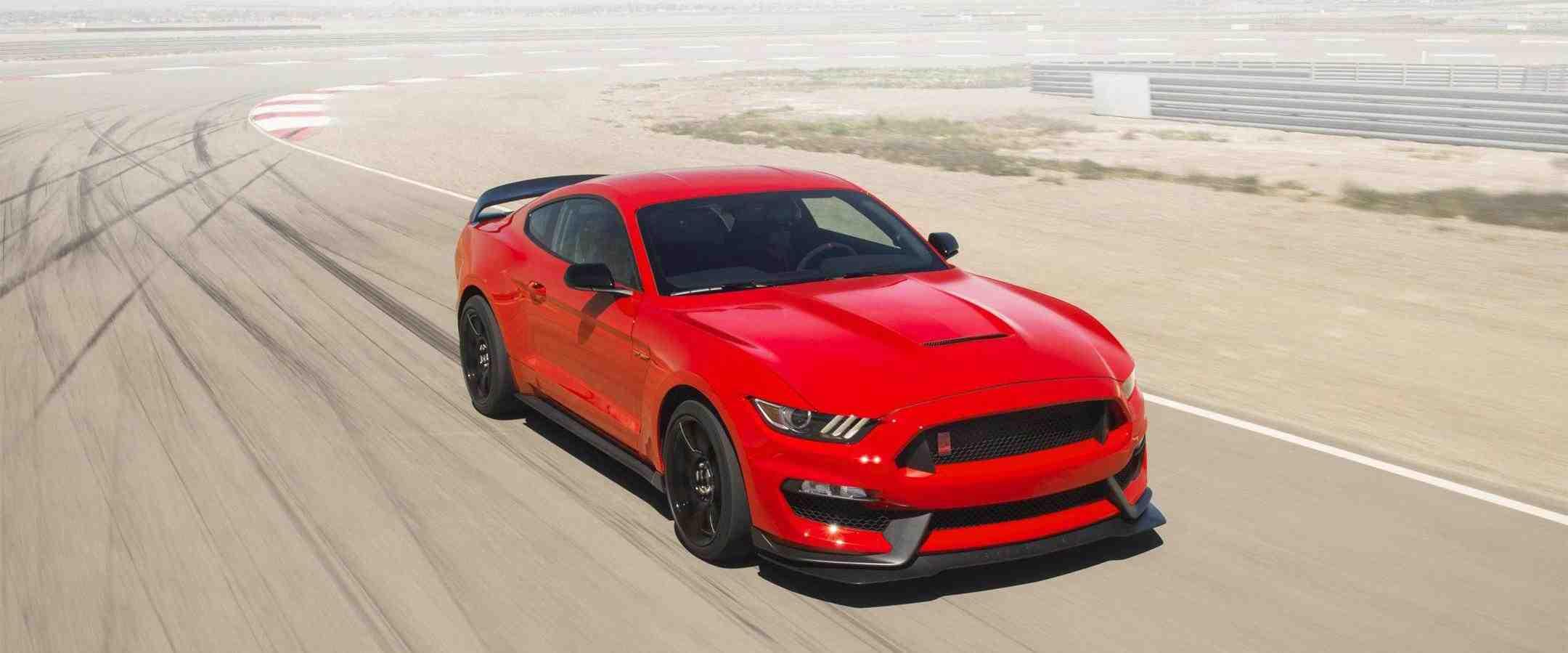 Photos. You Might Need A Drool Cup.
Don't be embarrassed. The Shelby® GT350 is the kind of car enthusiasts naturally salivate over. Feast your eyes.