The Dealership With A Heart Supports The Heart Of Our City
Media Release:
Local Ford dealership Rose City Ford Sales Limited has committed to ensuring that the Downtown Windsor Farmer's Market remains in the city's core this year.
In an effort to overcome the recent funding problems encountered by the Farmer's Market, local entrepreneur and owner of Rose City Ford, John Chisholm, has generously offered to sponsor the market's 2015 season.
"As a local company for almost 34 years, we have always reciprocated and extended our support to the community that continues to support our business so strongly. We are loyal to Windsor and we are fierce in our belief that the heart of our city is in need of continued rejuvenation and investment. Farmer's markets are increasingly becoming shining examples of tourist attractions and selling points in cities across North America, and we believe that having a Downtown Farmer's Market is an integral part of Windsor's rejuvenation plan." said John Chisholm.
Understanding that the market's opening season is fast approaching and that city council and the Downtown Farmer's Market continue to struggle in finding a mutually acceptable solution; Rose City Ford has decided to step in and cement the market's ability to remain downtown this year. The company and its owner are hopeful that their gesture will also motivate council and the market to continue seeking a long-term solution for the market's location after this season wraps up.
John Chisholm is thrilled to sponsor the market's 2015 season, and hopes that his donation will give council and the market time to prepare for the hosting of 2016 and beyond with a permanent and sustainable solution.
"Rose City Ford is the dealership with a heart - and what better way to live that corporate value than to support a heart-healthy farmer's market located in the heart of our city? It is a no-brainer for us, and it is something that we happily undertake this year - with heartfelt sincerity." smiled Chisholm.
Mayor Drew Dilkens & Rose City Ford's John Chisholm catching up before the press conference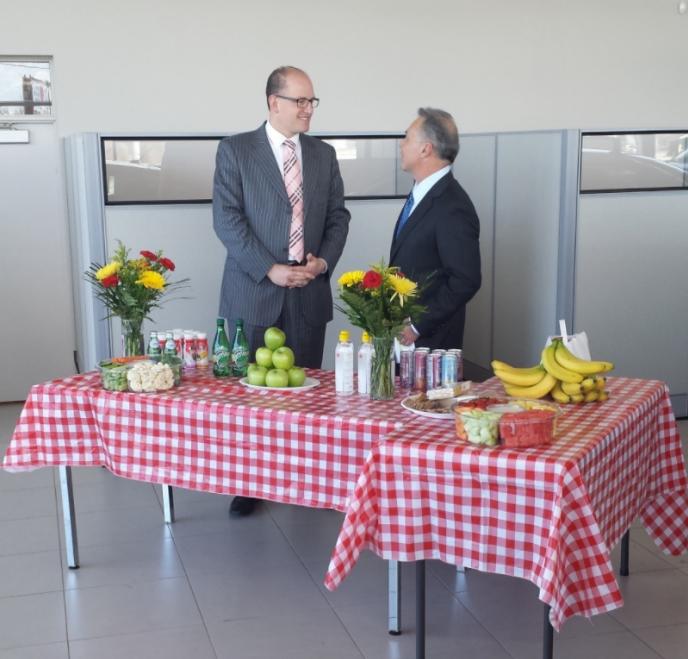 Mayor Drew Dilkens & Rose City Ford's John Chisholm announcing the generous sponsorship that will give the Downtown Windsor Farmer's Market a 2015 season
Rose City Ford's John Chisholm expresses what it means to keep the Downtown Windsor Farmer's Market open